Transportation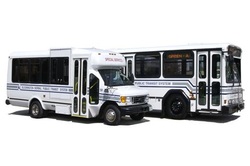 -The Constitution Trail runs through Bloomington-Normal and is over 30 miles long. The trail is about ¼ mile from campus, and is excellent for running, walking, and bike riding. The trail also connects IWU to shops, restaurants, and transportation systems found in Bloomington-Normal.
http://www.normal.org/Facilities.aspx?page=detail&RID=32
-Bloomington-Normal has their own bus system that travels throughout the two cities. The bus fare is only $1 for adults, or you can purchase an unlimited use monthly pass for $29. The brown (F) route stops on Emerson Street and goes to Eastland Mall, College Hills Mall and downtown Bloomington. During construction, the green (A) route stops on the corner of Franklin and Emerson Street (by Harriett Hall) and goes to uptown Normal, downtown Bloomington and ISU. A full map of the routes and times of departure for the bus system can be downloaded here:
http://www.bnpts.com/documents/Maps/FullMap.pdf
. In addition, maps are also available for student use at the Memorial Center front desk.
-The Amtrak train system is located in uptown Normal. These trains go to Chicago and St. Louis daily, making other stops along the way. You can purchase your tickets in advance online or at the station in person.
http://www.amtrak.com/
-Peoria Charter is another bus line that operates in Bloomington-Normal. These buses go back and forth from Bloomington-Normal to the Chicago area. Tickets can be purchased at the Bone Student Center at Illinois State University. The bus departs at the Bone Student Center at ISU.
http://www.peoriacharter.com/
-Titan Transport, the IWU shuttle, provides safe and convenient transportation for students living on or near campus. To use this free service, call (309) 556-CMFR (Call Me For Rides). Their hours are Sunday through Thursday, 10 pm-2 am.
-There are currently 21 bike racks available for student use. A map of the location of each of the bike racks on campus can be found here:
http://www.iwu.edu/map/
(check 'show bike racks').
---