Bloomington Farmers Market


-Bloomington's farmers market is located in downtown Bloomington on the corner of Main and Jefferson. The market takes place from 7:30am-noon every Saturday from May 12 until October 27.
http://downtownbloomington.org/index.php?id=6
---
Trailside Farmers Market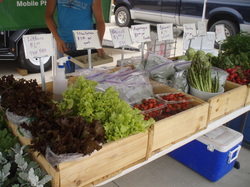 -The Trailside Farmers Market is held from June through September, near the Constitution Trail, in Uptown Normal. The market takes place every Tuesday from 3:30 to 6:00 pm. Locally grown produce and baked goods are available as well as great entertainment each week.
http://normal.org/index.aspx?NID=569
---