Richard F. Wilson Formally Inaugurated at Illinois Wesleyan University
April 9, 2005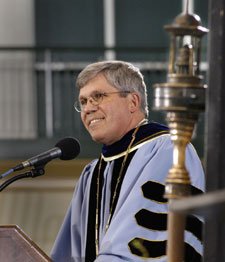 BLOOMINGTON, Ill. — Illinois Wesleyan University officially entered a new chapter in its history on Saturday (April 9) when Richard F. Wilson was inaugurated as the 18th president in the school's 155-year history.

The ceremony featured music, guest speakers, and a special poem for the event written and read by Illinois Wesleyan Professor of English James McGowan. The University community was joined by representatives of academic institutions from around the country as well as members of the Bloomington/Normal community for the event, which was held in the Shirk Performance Center.

Wilson, who began his work on July 1, 2004, told the audience in his Inaugural Address that the University must reaffirm its commitment to its distinctive mission by revitalizing its core attributes.

Citing Malcolm Gladwell's book titled Tipping Points, Wilson referred to several moments in the University's history when an idea spread quickly and made a substantial difference in the direction of the institution.

There was, he said, a financial tipping point in the 1800s when the school was saved from extinction through a financial campaign led by President Oliver Spenser Munsell. Other "tipping points" included a decision not to move the University from Bloomington to Springfield as was proposed in 1920, the sevenfold increase in the endowment under President Emeritus Robert S. Eckley, and the ambitious building program under Wilson's late predecessor, Minor Myers jr.

"I stand on many Illinois Wesleyan shoulders this afternoon, and I am grateful for the work that has been done in the past and for the dedication of those who serve and support the University today," Wilson said. "I look forward to working with all of you in reaffirming our commitment to the distinctive mission of this institution, to enhancing our role as global citizens, and to strengthening this University's contributions to the public good.

"We will accomplish these goals and others established for the University through careful planning, through an investment in the people and programs that define the institution, and through continuous attention to the quality of our work. I view these as core responsibilities. If historians look back on my tenure as president and describe it as a tipping point for the core, nothing would please me more."
Wilson said that he feels obligated to help the University deliver on its promise to students and cited, in particular, three elements of that promise - maintaining curricular breadth that flows from the University's structure of a liberal arts core with professional schools and programs; preparing students to participate fully in a global society; and enhancing the engagement of the University with the surrounding Central Illinois community.

At Illinois Wesleyan, Wilson said, "We create an environment that permits experimentation and growth and, most importantly, pathways of change. We also are able to infuse those students with an educational experience that prepares them for life, not simply for a job."

The official installation was conducted by Craig C. Hart, president of the Illinois Wesleyan Board of Trustees, who presented Wilson with the silver medallion emblematic of the presidency.

In his introduction of Wilson, Hart called him "the man for the job at this time in the University's history," and added: "As I consider all that has transpired in this year, I cannot help but be impressed with the manner in which Dick Wilson has negotiated the transition. He has accomplished it with grace and dignity, putting the campus community at ease while providing leadership in moving us forward."

Prior to being named Illinois Wesleyan's president, Wilson had served in a variety of capacities at the University of Illinois, most recently in the dual role as associate chancellor for development and vice president of the University of Illinois Foundation.

As part of Saturday's inauguration, Richard Herman, interim chancellor at the University of Illinois at Urbana-Champaign, brought greetings from his university and told the audience: "People give trust, respect and loyalty to Dick Wilson because he deserves it, because he gives it first to them. Your new president has for me always been a mirror into which I could look to be reminded of how the finest, most humane leaders among us neither demand power nor have it bestowed upon them."

Others who brought greetings and presented a charge to leadership included Illinois Wesleyan President Emeritus Eckley, who advised Wilson to "follow your own compass, while keeping an open mind for suggestions and insights that may prove useful."

The ceremony itself was the centerpiece of a weekend of activities celebrating the Inauguration. Three presidents of national liberal arts colleges participated in a panel to open the weekend, which also featured several music events and a symposia and poster session in which faculty, students, staff and alumni made presentations.