Vol. 10 Nos. 1-2 © copyright 1995-96 Clockwatch Review Inc., Dept. of English, Illinois Wesleyan University, Bloomington, IL 61702-2900; all rights reserved, "hard copies" available.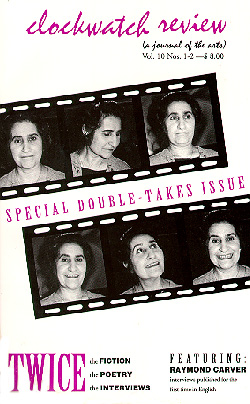 Contents:
Interviews
Raymond Carver--by Claude Grimal & Silvia Del Pozzo, trans. by William L. Stull
Margaret Atwood--by Rebecca Garron
Barbadian Calypsonians--by Curwen Best
Barbadian Artists--by James Plath
Prose
Gary Gildner--"How Old Are We Now?" and "The Rent"
Rick Bass--"Peacock, 1990: Parts I & II"
Short Fiction
Enrique Cirules--"One-Eyed Augustin's Tavern" and "The Sellers of Heron Feathers"
Daniel Scott--"The Right of Way" and "Transgressions"
Zurab Karumidze--"(The Baroque Elegy)" and "The Parados"
---
---
Martín Espada--"The Man Who Beat Hemingway"
Ron Houchin--"James Dickey Reading at Key West"
Adrienne Su--"Savannah Crabs" and "We Have Been Given Away"
Michael J. Bugeja--"Cicadas in New Jersey" and "The Assassin of Assissi"
Jeffrey McDaniel--"First Person Omniscient" and "Day 29, Where the Self Divides"
Judith Neeld--"Van Gogh's Death" and "Hunters and Lovers II"
Trevor West Knapp--"The Way the Rats Died" and "My Father's Tractor"
Beth Lisick--"Empress of Sighs" and "Man Comes Up To Me In A Bar #6"
Katherine Smith--"Flight" and "Jealousy"
Maureen McCafferty--"The Tighter You Hold" and "To Switch on the Lamp"
D.J. Smith--"On Loan" and "Czestochowa Gate"
Angelyn Hays--"Starlings" and "One of the Cardinal Seasons"
Tim Bowling--"Midnight" and "Snowy Owl After Midnight"
Tod Marshall--"Brothers Fishing" and "A Minor Prophecy"
Artwork
David Alleyne--"Keeping Shop" and "Sugar Cane Man"
Vanita Comissiong--"Hawker in Green" and "Market Scene in Yellow"
Jeff Millies--"Thrown a Curve" and "Monument"
Reviews
Michael J. Bugeja's Little Dragons (Negative Capability Press, 1996)
Colette's Bella-Vista and John Donne's Going to Bed and Other Poems (Modern Library, 1996)
Andre Dubus' Dancing After Hours (Alfred A. Knopf, 1996)
James McKean's Tree of Heaven (Univ. of Iowa Press, 1995)
Mary O'Connell's Updike and the Patriarchal Dilemma (Southern Illinois Univ. Press, 1996)
Alan Rosenthal's Writing, Directing, and Producing Documentary Films and Videos, rev. edition (Southern Illinois Univ. Press, 1996)
Maureen Seaton's Furious Cooking (Univ. of Iowa Press, 1996)
---
---
This page is still (obviously) under construction.