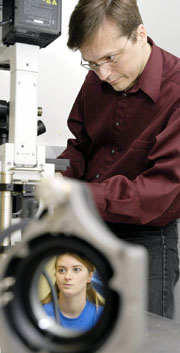 Gabe Spalding Research Featured in National Journal

November 10, 2004
BLOOMINGTON, Ill. — Groundbreaking work in optical sorting performed by Illinois Wesleyan physicist Gabe Spalding and colleagues at St. Andrews University in Scotland will be featured in the special "Optics in 2004" issue of Optics & Photonics News.

The project was chosen from a record number of submissions to the publication which is the news magazine of the Optical Society of America.

The team of Spalding and collaborators Michael MacDonald and Kishan Dholakia originally reported their findings in the November 27, 2003, issue of Nature, describing the sorting machine that uses an optical lattice created by a five-beam interference pattern to separate microscopic particles.

The Optics in 2004 issue will feature an abstract describing the technique that Spalding and his colleagues developed.

According to Spalding, the technique can be implemented in tandem with existing technologies and offers the potential to evolve into an inexpensive component for "lab-on-a-chip" systems used in physical and biomedical research.