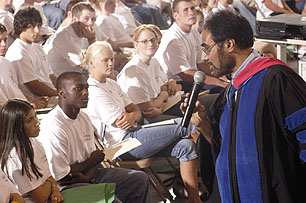 Narendra Jaggi addresses the First-Year Convocation.
Character is Critical to a Liberal Arts Education, Illinois Wesleyan Professor Narendra Jaggi Tells First-Year Convocation
August 24, 2004
BLOOMINGTON, Ill. — Using the music of Bach, Alicia Keys, and rapper Jay-Z to set the stage for his remarks, Illinois Wesleyan physics professor Narendra Jaggi told members of the University's Class of 2008 and their families and friends that knowledge without character is useless.
Speaking to the annual First-Year Convocation in the Shirk Center, Jaggi played selections from very different musicians and musical styles, making the point that a liberal arts education such as the one the students will receive at Illinois Wesleyan will allow them to enjoy a range of cultural experiences.
"Liberal arts education is about widening the palate of choices for your mind, for your heart, and for your spirit," said Jaggi, who was named the Illinois Professor of the Year by the Carnegie Foundation for Teaching and CASE in 2004. "It is not breadth for the sake of breadth. It is not to get a better job. It is so that, when you turn 50, you don't spend all your time sitting on the couch with a beer in one hand and the clicker in the other hand because there's nothing else to do. In the end, liberal arts education is about participating in and enjoying cultural experiences for the rest of your life."
Jaggi said that while many definitions of liberal education include independent thinking, he believes that true liberal learning is as much about seeing and honoring interdependence. It is about how we learn from each other, how nations rely upon one another, and how nurturing all of us in a community is more important than fierce, proud independence, he said.
Admitting that he had become a late convert to the value of a liberal education, Jaggi said that he considers liberal learning to be "the search for truth and beauty in nature and in the human condition."
What he finds absent from most definitions of liberal education, he said, is reference to the importance of character. "What good is knowledge without character?" he asked. "What good is your knowledge of physics if all you do is build bombs? What good is your knowledge of philosophy and ethics if you will not stand up for what's right?"
Jaggi acknowledged that he does not know how to teach courage or character. "All I know is that without courage and character, nothing matters," he said. "All your brilliance, all your good looks, all the money you will make is worth nothing if you are not willing to stand up for what you believe."
Illinois Wesleyan welcomed 569 first-year students to the campus for five days of orientation prior to the opening of classes on August 30.

In addition to Jaggi, the students heard a welcome from President Richard F. Wilson, Provost Janet McNew, and Trevor Sierra, president of the Student Senate.