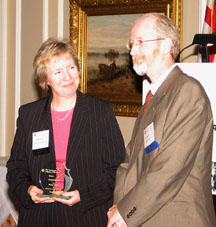 Daniel F. Bassill, right, receives his Shining Example Award for Illinois Wesleyan Acting President Janet McNew.
Illinois Wesleyan Alumnus Wins Shining Example Award

June 2, 2004

CHICAGO, Ill. — Daniel F. Bassill, a 1968 graduate of Illinois Wesleyan, has been named a Shining Example of Liberal Arts for Leadership by the Associated Colleges of Illinois (ACI). Bassill was honored for his commitment to helping low-income youth beat the odds to finish high school and go on to college. He was one of three recipients of the annual awards, which recognize the leadership contributions of graduates of Illinois' 24 private liberal arts colleges and universities, which comprise the membership of the Associated Colleges of Illinois.

"This year's Shining Examples complement ACI's commitment to our College Readiness Program, which has helped hundreds of low-income and minority students realize their college dreams since 1996," said Jerry Fuller, executive director of ACI.

Bassill, who lives in Park Ridge, Ill., is president and CEO of Cabrini Connections and Tutor Mentor Connection, a not-for-profit organization that provides tutoring and mentoring services to inner-city youth and promotes networking among similar organizations nationwide. In 1973, while working at Montgomery Ward Company, Bassill was recruited to tutor a Cabrini-Green youth. By 1974, he was directing Ward's Cabrini-Green Tutoring Program, Inc., managing hundreds of volunteers and students. In 1990, he left Montgomery Ward to lead a tutor/mentor program full time.

Since then, Bassill has helped more than 4,000 adults establish tutoring/mentoring relationships. He admits it hasn't been easy: "Every day I feel like David facing Goliath, without the slingshot. The challenges of mentoring young people from poverty to careers are enormous, and they are made more difficult by lack of time, talent, and dollars." To plug these gaps, Bassill established Tutor/Mentor Connection, a nationally recognized resource that promotes exchange of best practices in tutor/mentor programs. In Chicago, Tutor/Mentor Connection convenes leadership conferences and promotes collaborative fund raising and volunteer recruitment among tutor/mentor programs citywide.

Bassill majored in history at Illinois Wesleyan. He has received numerous awards for his leadership in the not-for-profit sector. In 2001, Illinois Gov. George Ryan appointed Bassill to serve as a commissioner on the Illinois Commission on Volunteerism and Community Service and, in 1997, Bassill was one of ten Chicago delegates to the President's Summit for America's Future.

ACI's 2004 class of Shining Examples were selected from a group of nearly 50 nominations submitted by ACI member colleges and universities, who were asked to nominate alumni who dedicate themselves to helping disadvantaged youth finish high school and go on to college. ACI's Shining Examples awards were established in 2001. Since then, honorees have included individuals whose life work best illustrates the concept of Liberal Arts for Leadership, first generation college graduates, and, in 2003, a group of outstanding public school teachers.



For the Media

•
Current News Stories
•
IWU News Tips
•
Faculty Experts
•
Communications Staff
•
Contact Us