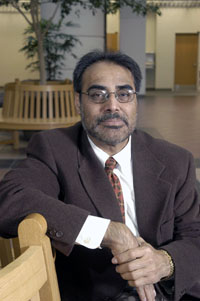 Illinois Wesleyan Physics Professor Narendra Jaggi is Illinois Professor of the Year.
Illinois Wesleyan's Narendra Jaggi Named Illinois Professor of the Year

Nov. 14, 2003
BLOOMINGTON, Ill. — Narendra Jaggi, professor of physics at Illinois Wesleyan University, has been named the 2003 Illinois Professor of the Year by the Carnegie Foundation for the Advancement of Teaching and the Council for Advancement and Support of Education (CASE).

Announcement of the award was made Thursday (11/13) in Washington, D.C., at a ceremony at the National Press Club.

Jaggi, a member of the Illinois Wesleyan faculty since 1991, is among winners in 43 states. CASE assembled two preliminary panels of judges to select finalists. The Carnegie Foundation then convened the third and final panel, which selected four national winners and the state winners.

"I could not be more delighted that Narendra has been recognized as one of the nation's top professors," said Janet McNew, acting president at Illinois Wesleyan. "Narendra is a dedicated teacher who crosses traditional academic boundaries and shows students how to make connections between seemingly unrelated fields."

Jaggi was educated in his native India, receiving degrees in physics from Ranchi University and from the University of Bombay where he earned the Ph.D. After working in the Department of Atomic Energy in Bombay, he pursued a postdoctoral fellowship at Northwestern University, then joined the physics department at Northeastern University in Boston before coming to Illinois Wesleyan.

As a scholar, Jaggi has co-authored 37 research papers in refereed journals in both physics and sociology. One example of both the interdisciplinary nature of Jaggi's research and his involvement with undergraduates is a co-authored paper with a recent graduate. The paper explores issues of racial segregation and was accepted for publication in the journal Urban Studies.

In addition to his teaching and research, Jaggi is co-founder of the Sports and Scholars Program, a summer academic enrichment experience that has been recognized as a model for exemplifying "university-industry-community" cooperation.

Jaggi's engaging classroom style and his involvement in numerous campus activities led to his selection by Illinois Wesleyan's Student Senate as the University's Professor of the Year for 2002-2003.

In a statement of his teaching philosophy, Jaggi wrote: "I believe that genuine affection and enthusiasm for learning can be infectious. I believe that students can learn from each other, and I from them. I recognize that gender and race, because of the historicity of the acculturation process, can create biases in learning styles and differences in self-image. Nonetheless, I strongly believe in the nearly universal accessibility of physics and mathematics. My students trust my judgment on this issue, and therefore repeatedly prove me right....I smile whenever my students can see through the fog, and can see that they are seeing through. Such moments build the confidence of the students and enable them to take responsibility for their own learning. They also make teaching the joyous vocation that it is!"

The Professor of the Year panel made its decision based on five criteria: extraordinary dedication to undergraduate teaching; impact on and involvement with undergraduate students; scholarly approach to teaching and learning; contribution to undergraduate education in the institution, community, and profession; and support from colleagues and current and former students.

"Narendra is a superb teacher in the classroom, mixing the classical lecture format with in-class discussion and debate to elicit the very best from his students," said Acting Dean of the Faculty Thomas A. Griffiths in his letter of nomination. "But he is deeply involved with his students outside the classroom as well, setting an excellent example and serving as a superb role model."