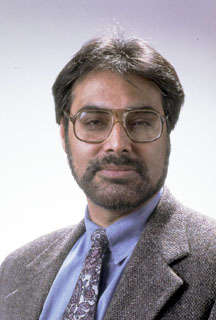 Narendra Jaggi
Illinois Wesleyan Student Senate Names Jaggi "Professor of the Year"


Feb. 19, 2003
BLOOMINGTON, Ill. — Narendra Jaggi, professor and chair of the department of physics at Illinois Wesleyan University, has been honored as "Professor of the Year" by the University's Student Senate.
Jaggi, a member of the Illinois Wesleyan faculty since 1991, was elected during the annual Student Senate elections earlier this month. The award was made at the Feb. 16 Student Senate meeting.
"Dr. Jaggi has come to be so much more than just a teacher to Illinois Wesleyan students," said John Rapp, a senior from Towanda, Ill., and outgoing president of the Student Senate. " He is a mentor who teaches much more than just physics. This award is long overdue."
Jaggi is a materials physicist by training and currently conducts research in the areas of materials physics and artificial societies. In addition to his teaching and research, Jaggi has served as the adviser to a number of student organizations, ranging from the South Asian Student Association to the Society of Physics Students. He has also developed and directed an innovative community program, the annual Sports and Scholars Summer Camp held each summer at Illinois Wesleyan.
Jaggi received his bachelor's degree from Ranchi University in his native India and then earned the Ph.D. in physics from the University of Bombay. After serving as a scientific officer with the department of atomic energy in India, Jaggi pursued postdoctoral work at Northwestern University and served on the faculty at Northeastern University in Boston before joining the Illinois Wesleyan faculty.