Illinois Wesleyan's Joe Binder Earns Goldwater Scholarship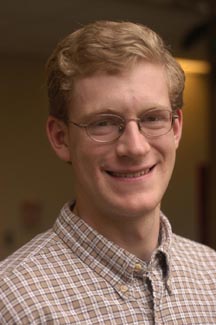 Joseph Binder
April 4, 2003
Illinois Wesleyan University junior Joseph Binder has been awarded one of 300 national scholarships from the Barry M. Goldwater Scholarship and Excellence in Education Foundation.
Binder, a 2000 graduate of Decatur, Ill., St. Teresa High School, is majoring in chemistry and physics at Illinois Wesleyan.
At the 2002 John Wesley Powell Research Conference at IWU, Binder won an award for his poster, "Derivatization of Keggin-Type Polyoxometalates." He is a member of the national scholastic honoraries Phi Kappa Phi and Phi Eta Sigma.
He is also a member of the University's chapter of the American Chemical Society (ACS) Student Affiliates, serving as the group's secretary this year and will be vice president next year. He has served as president of the IWU Quiz Bowl team for two years and is a member of the Society of Physics Students.
He is a Presidental Scholar, has earned the 2001 CRC Press Freshman Chemistry Achievement Award and the 2002 ACS Polymer Education Committee Award for Outstanding Organic Chemistry Student.
Binder has been a two-year varsity cross country runner and will be the team's captain this fall and has also participated in track for three seasons.
"This award is testimony to Joe's outstanding academic achievement and creativity," said Jeff Frick, associate professor and chair of the chemistry department at Illinois Wesleyan. "His research proposal blended the work he has done with [IWU chemistry] professor [Rebecca] Roesner with work done during his summer internship at Archer Daniels Midland."
The scholarships, given for the 2003-2004 academic year to undergraduate sophomores and juniors, will cover the cost of tuition, fees, books, and room and board up to a maximum of $7,500 per year.
Goldwater Scholarships
The Goldwater Scholars were selected on the basis of academic merit from a field of 1,093 mathematics, science, and engineering students who were nominated by the faculties of colleges and universities nationwide. One hundred sixty-one of the Scholars are men, 139 are women, and virtually all intend to obtain a doctorate as their degree objective. Thirty-one Scholars are mathematics majors, 210 are science majors, 45 are majoring in engineering, 12 are computer science-related majors. Many of the Scholars have dual majors in a variety of mathematics, science, engineering, and computer disciplines.
Goldwater Scholars have very impressive academic qualifications that have garnered the attention of prestigious post-graduate fellowship programs. Recent Goldwater Scholars have been awarded 50 Rhodes Scholarships (six of the 32 awarded in the U.S. in 2003), 55 Marshall Awards (eight of the 40 awarded in the U.S. in 2003), and numerous other distinguished fellowships.
The Goldwater Foundation is a federally endowed agency established in 1986. The scholarship program honoring Senator Barry M. Goldwater was designed to foster and encourage outstanding students to pursue careers in the fields of mathematics, the natural sciences, and engineering and the Goldwater Scholarship is the premier undergraduate award of its type in these fields.
The Foundation, in its 15-year history, has awarded 3,962 scholarships worth approximately $39 million. The trustees plan to award about 300 scholarships for the 2004-2005 academic year.