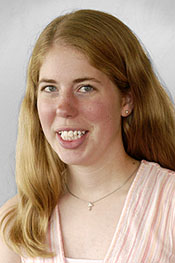 Illinois Wesleyan's Frazier Wins Fulbright Scholarship

August 9, 2004
BLOOMINGTON, Ill. – Emily Frazier, a 2004 graduate of Illinois Wesleyan University, has won a Fulbright Scholarship to study in Germany.

A music education major, Frazier will be affiliated with the Dresden Hochschule für Musik where she will compare the current elementary music education system with the system that was in place in communist East Germany.

Frazier first went to Germany during her sophomore year of high school and was instantly surprised by what she saw. "I stepped off the plane, and it was as if I was in Chicago," recalled Frazier, who said she realized then that the world wasn't how she had imagined it. "What I saw sparked my belief that the only way to learn about a culture is to experience it for yourself." She made a return trip to Germany on an Illinois Wesleyan May Term trip in 2003.

The Fulbright U.S. Student Program is funded by the U.S. Department of State. It provides full grants, travel grants and teaching positions to American students who wish to study abroad. Students must hold a bachelor's degree to be eligible and may be placed in an overseas university or institution or may conduct research depending on the country they travel to.

According to Frazier, the Dresden Hochschule für Musik is for music students only, much like a conservatory in the United States. During her yearlong stay she will conduct archival research in music education in addition to interviewing German music teachers about their experiences and approaches to music education. She also plans to attend music education and German language courses to further enhance her German language skills.

In her research, she plans to focus on the East German State of Saxony pre- and post-1989. "At one point the government actually handed out lesson plans to teachers and told them 'this is what you are teaching.' Today, however, music education in Germany is similar to music education in the U.S.," said Frazier.

Frazier hypothesizes that her research will demonstrate that students are now taught to focus on personal achievement versus the needs of the group. She believes this shift in focus is reflected in the songs that are part of a suggested repertoire. Frazier also believes that some of the pedagogical practices that were once encouraged by the GDR could prove effective if reinstated. "I will look at the GDR system to see what worked and what has been changed for the better," she said. "Some of the best musicians in the world are from Eastern Europe so I think that there is still a great deal to learn from old lesson plans and past systems of teaching music."

Frazier hopes to publish her findings. "I'd like to write articles about the German system and about the aspects of the system that the American music education system could benefit from," said Frazier.
Depending on her experience in Germany, Frazier will decide what path to take when she returns to the U.S. She believe that the research skills she will acquire from her studies in Germany will help her if she chooses to attend graduate school and that her broadened perspective of music education will help her if she decides to go directly into teaching.